Question from Ross
"Will you have individual swing arms available for purchase later on?
I'm unsure whether to order a HHxf with a) the captive eye or b) one without – and get the swiva eye or perhaps a Rotator Round Swivel……
If you will have replacements/individuals at a later date then I can purchase the other if I don't get on with it. (Or lose it etc.)
Many thanks"
Answer 3/10/22
Not at this time.  I will plan on listing replacement wearable items such as the DogBone, SlicPin Keeper  Slic Pins and hitch cords.  I wil consider the Swing Arms at a later time.
Thank you,
Richard
Hi Richard,
I ordered one of your Hitch Hiker XF and loved it! Super smooth going up and down. One of the best climbing devices I have used if not the best, in my opinion. Feels super safe also. I noticed one minor flaw though. Nothing serious or life support. The screw which holds the slick pin keeper from falling down unscrewed itself and fell off. I noticed it unscrewing and kept on screwing it back with my fingers but eventually it fell off without me noticing sooner. What can I put on the screw to keep it from unscrewing? Locktite maybe? I'll buy a new screw over here. Just thought I'd let you know about it. Thanks for creating such excellent tree work devices. I already ordered the foldable saka and the throwbag with the magnet for traversing from tree to tree. Greetings from Puerto Rico!
Response:  We will start putting LockTite blue on the threads at installation.  We don't want it to be difficult to remove if the nylon keeper is broken and needs to be replaced but we also understand the frustration to loosing it.  It is a black stainless steel oxide #4-40×1/4″ phillips pan head screw and the keeper and screw may be purchased on our site. 
Thank you for the feedback.
https://climbing-innovations.myshopify.com/products/slicpin-keeper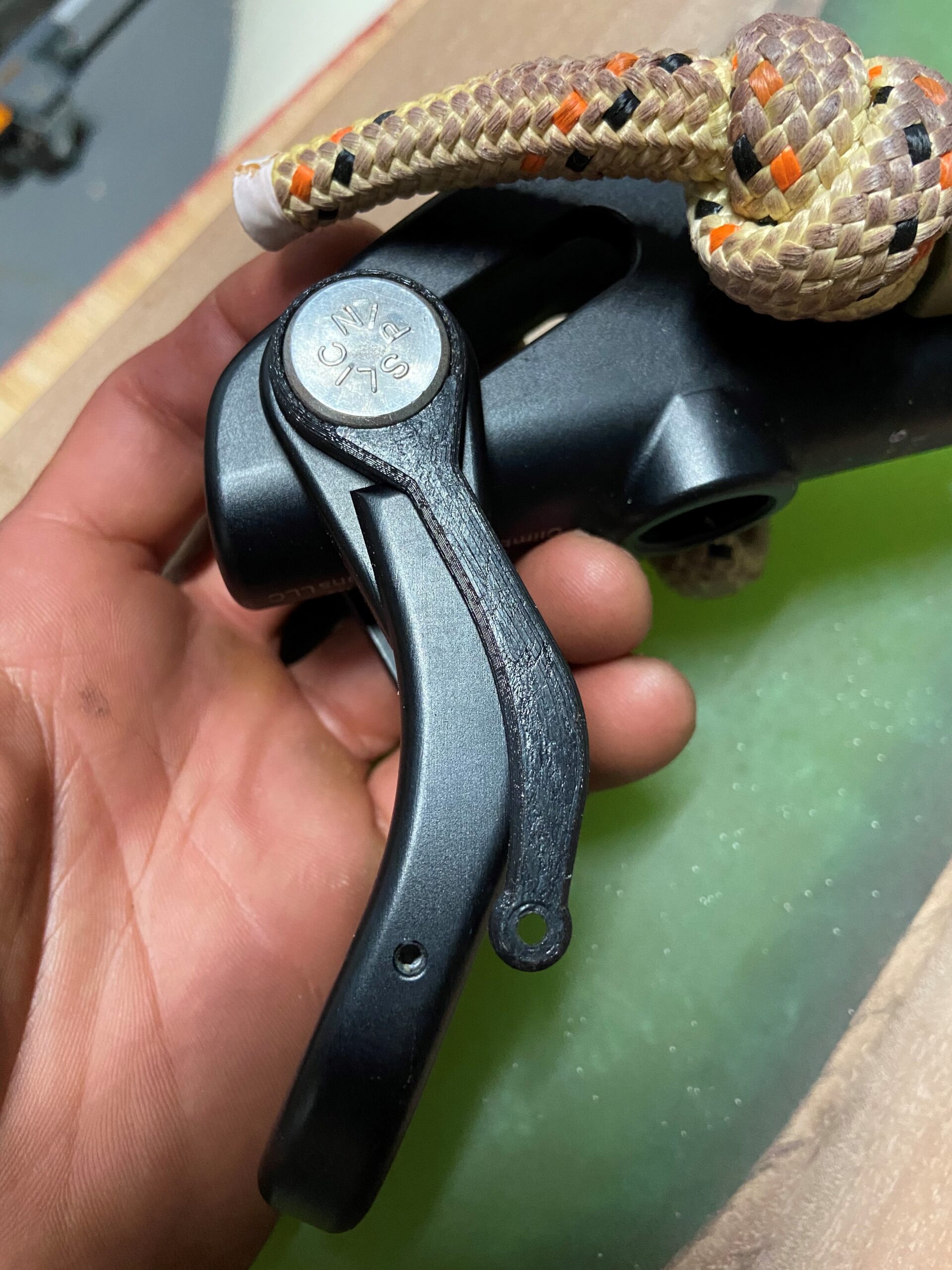 For those that are choosing the non-captive eye and ask what size ring, swivel or other attachment will fit over the Swing Arm. Below are a few examples but the outside diameter of the Swing Arm eye is 25mm.
I hope the below photo can help.  Note that there are a lot of variable with hitch cord.  The dimensions on the board should help get the details I think you want.
Thank you
How much does the HitchHikerXF weight without the hitch cord that would be selected by the user?
11.3 Oz with the captive eye and 10.5 Oz without the captive eye.
….Looks slick,  really cool design.  Do you have any frustration with the sit back from the pivoting of the quickie?
Well. to be exact, it is not a Quickie and not a shackle but is called a Swing Arm, minor difference, I know but it is different. 
About sit-back, I find it not to be an issue.  I make my ascent then sit back, so a few inches out of 50 feet is not significant.  If it bothers me I will take the Swing Arm, move the body up and push the hitch up and illuminate ALL sit back before I 'sit-back'.  What always bothered me is having slack on a carabiner attachment during an SRT ascent, then, sitting back to discover the carabiner is sideways or reversed or moved in some other manner.   That is my life support connection and while an SRT device is being tended, for most climbers, it is slack.  Having to use keepers or captive eye carabiners to keep things from being side-loaded bothered me.  
The Swing-Arm is designed to be unaffected by being unloaded.  It self orienting, will not go sideways, nor does it have a gate that gets cross loaded.